Soomom

X MULGA
the artist
Words: Joel Moore & Charlie Coquillard | Pictures: Charlie Coquillard
Mulga the artist, is a well-known Sydney figure. With his crazy designs and colourful animal drawings, he is everywhere. From the Bondi beach mural to your local Westfield, the neighbourhood school, or the vast Kings cross-building, you've probably seen some of his art somewhere. We've decided to partner up with the Shire artist for our first Exclusive limited edition collection.

Dive more in-depth into the world of Mulga, and don't forget to snatch one of the limited edition jerseys.
SHOP MULGA JERSEYS
How did mulga go from working in Finance to drawing for big brands like Coca Cola and Samsung?"
I was working in financial planning for over ten years, and at some point, I realised that's not what I wanted to do for the rest of my life. I was always drawing in notebooks and on post-it notes at work so I started to put my drawings on a blog, then I had a chance to have an artshow at a local gallery. From there I had a stall where I sold T-shirts and merch with my drawings on it at Bondi Markets for around 2 years while still working in my day job. The same year I started selling shirts at the markets I painted a mural at the Seawall in Bondi, that helped me get noticed more and more opportunities open up.

One thing leads to another and after hustling for many years I'm now at a point where opportunities pop into my inbox."
What type of work do you like doing the most, and how do you find ideas for your art.
"I like murals because they are a big scale and can have a significant impact and it's fun to paint large scale, and everyone can see and appreciate them. However, it's pretty challenging work; you gotta travel, climb ladders, you get rained on, sunburnt etc.I also really love putting arts on products such as streetwear; I like the practical aspect. People get to use it, wear it, and do stuff with my art on their back. That's why I enjoy collaborating with cool brands that create products people can use.

Idea wise I love summer and surfing so a lot of my art has those summer vibes to it."
You repeatedly draw animals and natural setups; what inspires you to draw about this? Do you have a particular attraction to animals / do you give some of the revenue to association/protection?
"I love the natural environment and being in nature surfing and swimming and that all comes through in my art. Animals are super fun to draw, there is so many varieties and I find it fun to humanise them and turn them into groovy characters. Being a professional artist it also helps that my subject matter is something that a lot of people connect with.

For charity and nature protection, I do a bit of art for different charities. When the big bushfires happened recently I drew a koala and donated the profits to a koala charity I also collabed with a sock brand with all profits going to koala protection charity. On an ongoing basis I do a lot of art for Halfcut a charity that raises money for forest conservation and regeneration.
"What's your favorite animal to draw?
"One of the first animals I got into drawing were gorillas. I saw a massive one at Taronga zoo one day, and he inspired me, he was so huge and seemed real powerful.I go through phases, though, Gorillas, flamingos, pink dolphins, orangutans, unicorns. Sometimes someone asks me to do something, and it clicks with me. For example, I did commission work on an Orangutans, and from then, I painted a few different orangutan artworks.

I've just done a Frog for a school, so maybe I'll enter a frog phase now ahahah."
I enjoy collaborating with cool brands that create products people can use
Can you talk me through your creative process? How do you go from idea to final sketch?
"When a client wants me to create a piece of art, they'll usually give me a brief and I'll sketch it up on paper with pencil and once they sign off on it I'll create the final art. When working on a small scale I usually use Posca paint markers on paper and for larger artworks I use house paint applied with a brush.
What do you love about Sydney and where you live, the Shire?
"It's where I was born so all my family and friends are here, I love the beaches and the river and the national park. It's also not too far from the city so it's not to bad when I need to travel there for mural projects."
Do you have a "dream project" you'd like to do one day?
"I'd like to have a theme park like Disneyland one day, maybe it could be called MULGALAND. When you've got a theme park, you know you've made it."
Have you ever got onto a road bike?
"I've got a hybrid bike that I rode from my house to my office job back when I had an office job. It's pretty nice I like it because it can go on the road but also off the road."
More Stories

Social media can help you find people who share the same passion and connect with them. You can build these connections all over the world through our virtual playgrounds, but there are many cases where you can expand those horizons and really meet up in person.
Sydney Artist's Mulga loves to create funky and colorful animals, bringing joy to everyone passing by his art. Inspired by his coastal lifestyle, he brings a bright twist to some of the coolest specimens in the animal kingdom.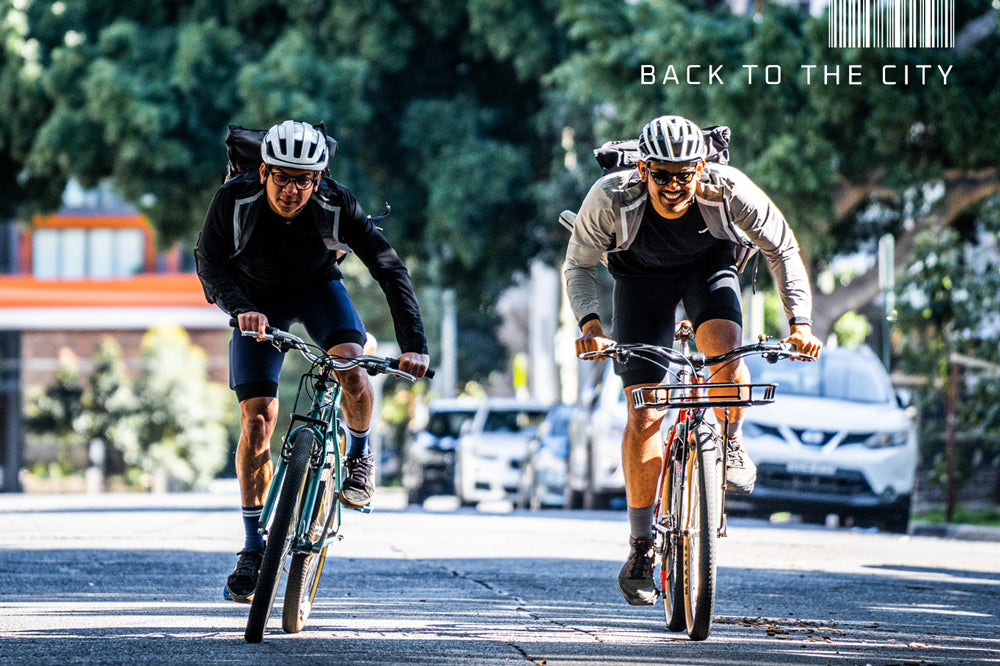 To celebrate the end of lockdown as people slowly head back to the city in Australia, Soomom wants to highlight an under-appreciated segment of the cycling fraternity: The Courier.