Soomom Winter 2021, Checkout the whole collection
Words: Scott Macallister & Charlie Coquillard / Pictures: Charlie Coquillard

Soomom's first ever Winter collection is here and we're excited to share a detailed breakdown of the entire collection.

You've been asking for more products and winter apparel and here it is.

The first drop of our Winter collection is focused on the upper body with thermal long sleeve jerseys, windbreakers and rain jackets.

Our goal was making your outwear as compact as possible, to easily store on your ride without taking up valuable space.

Working with a lightweight profile we've squeezed as many features and innovations we know you'll love as possible.

Get ready to explore the first Soomom Winter Collection and we'll see you on the road for those cool early morning rides this season.
Pro Lightweight Longsleeve Thermal Jersey
A welcome addition to our Pro Lightweight jersey collection for the colder months this longsleeve version keeps you riding year-round.

An ultra-warm fleece lining designed using award-winning Italian fabric Carvico® will keep you comfortable on the bike when the weather cools.

We added 3 deep rear pockets to stash everything needed for longer rides when you don't want to pack a jacket.

You won't need to explain how you lost the keys (again) with an extra secure side pocket incorporated into the design.

Chafe free comfort from bonded seams along the neck, zip and shoulder will keep you comfortable and the elements out.

We've added additional reflective zones on the back and sleeves for the darker mornings, and early nights, through the middle months.

Nothing will stop you riding through Winter with this jersey in your arsenal.
Pro Classic Long Sleeve thermal Jersey
Modeled on our Essentials jerseys the Pro Classic Long Sleeve jersey is the perfect addition this Winter.

Featuring similar specs to our Pro Lightweight Long Sleeve jersey this model uses the most durable and comfortable Italian fabrics from our Essentials range.

Using award-winning Italian Carvico® fleece lining, and hyper comfortable bonded seams that keep the elements out and the warmth in, this jersey will be your Winter staple.

It features 3 deep rear pockets to stash everything you need for your long rides plus reflective detailing for aesthetic style and safety.

This jersey is everything you need for the cooler days on the saddle.
Pro Lighweight Windproof Gilet
A lightweight, packable gilet designed to keep the chill early morning air off your chest with a completely windproof front panel.

For such a lightweight and convenient vest there's a lot of innovation packed into an efficient profile.

The front panel uses lightweight, windproof material to keep the cool morning air at bay until you warm up.

Alternatively the rear panel uses a lightweight mesh material to avoid sweat build up keeping you warm and dry.

A 2-way reversible asymmetric front zip allows you to choose to unzip from the top, bottom, or both, for the perfect fit and comfort for the rider.

The Lightweight Gilet is the perfect Winter companion for Aussie conditions.
Pro Lightweight Windproof Jacket
A Long Sleeve completely windproof jacket that keeps you riding longer and harder through tough conditions.

This jacket retains the innovative features from the Gilet vest version and incorporates windproof long sleeves adding extra protection against the elements.

Aesthetic reflective detailing gives additional safety for riders during the darker mornings and evenings on the bike.

By retaining the lightweight mesh material on the rear you get the best of both Worlds, warmth and comfort.

A completely wind and element proof front panel to keep your chest warm and a sweat reducing rear mesh panel that will help you better regulate body temperature and comfort.

A must for the changing seasons you'll be ready to attack on those colder Winter days.
Rain Jacket
The Pro Rain Jacket is the ultimate year round riding accessory, allowing you to ride no matter what nature serves up.

With an ultra lightweight construction the jacket is packable so you can stash it away on all your rides incase the weather deteriorates.

Using world class waterproofing material the jacket maintains a completely dry ride with added wind protection.

All seams are stitched then bonded to provide extra durability and complete water protection.

We've added additional reflective components, including a large back panel, for additional safety so you glow in low light.

With 2 large rear pockets, and a widened grip on the elasticated waistband that keeps water out that may splash up from below, the rain jacket is packed full of innovative features.

A lightweight, weatherproof and compact jacket that keeps you comfortable for the most adverse conditions, this jacket is a must.
Time to go ride
Soomom makes the best products for the most passionate cyclists around the World.

Designed by cyclists, for cyclists, we're focused on continuing to push the envelope in innovation and comfort for cyclists.

We think every cyclist deserves the best gear and we're continually committed to making sure our products are World Class and more cyclists benefit from them.

Our first Winter collection pushes the envelope in what's possible with lightweight materials and weather proof features.

Our goal is to have you riding longer, and in greater comfort, no matter what the elements throw at us.

We love hearing from our customers so keep sending us your feedback and photos in your Soomom gear out on the road.

Explore the collection online and shop now.

Win your own game.
More Stories

Social media can help you find people who share the same passion and connect with them. You can build these connections all over the world through our virtual playgrounds, but there are many cases where you can expand those horizons and really meet up in person.
Sydney Artist's Mulga loves to create funky and colorful animals, bringing joy to everyone passing by his art. Inspired by his coastal lifestyle, he brings a bright twist to some of the coolest specimens in the animal kingdom.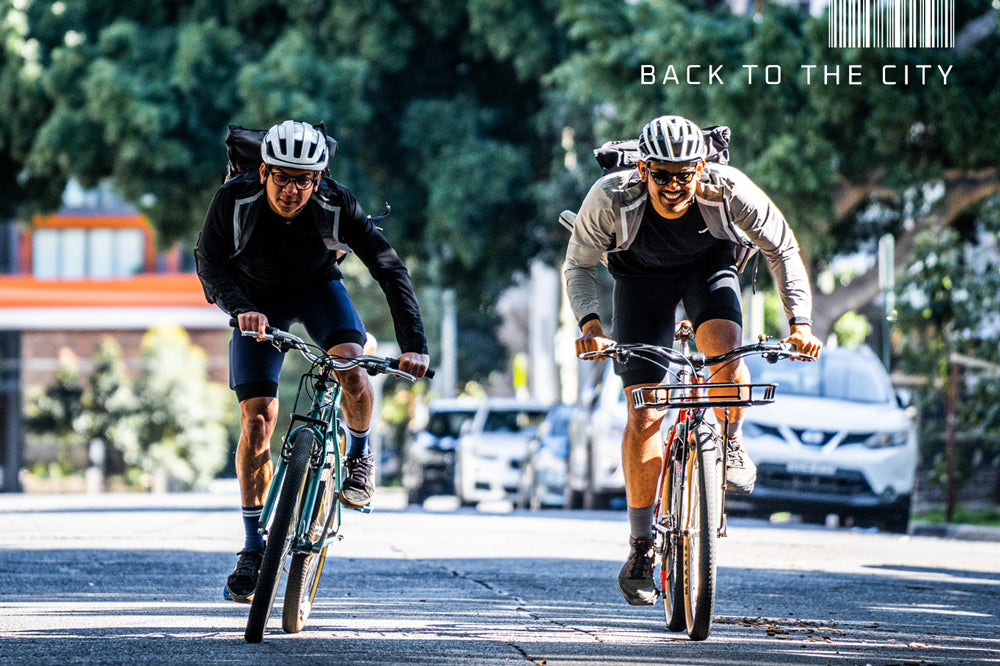 To celebrate the end of lockdown as people slowly head back to the city in Australia, Soomom wants to highlight an under-appreciated segment of the cycling fraternity: The Courier.