12 Best Cycling Road Rides around Sydney, Wollongong and the Southern Highlands
Words: Scott McAllister / Pictures: Charlie Coquillard
Featuring Soomom cycling ambassadors: EJ MacDonald & Jon Odams

Introduction.
Do you know a better way to explore a city than on a bike? We agree there is nothing better than seeing a new city while exploring on a bicycle. The freedom and the distance you can cover makes it the best choice in our books.

Sydney is an iconic destination for outdoor lovers. A mix of buzzing city life, sprawling suburbia and surrounded by stunning landscapes and natural wonders, you don't have to look far to see why people flock from around the World to see the Emerald City.

For cyclists there's a never ending range of cycling routes in Sydney to explore including exquisite cycling tracks and cycling paths. And with Cycling spots in Wollongong, Central Coast, Southern Highlands and Blue Mountains on your doorstep, you'll always have something new.

With something for everyone you'll never want to get off your saddle as every road leads to another new experience, or some of the best cafes and scenery in the World.
1. Akuna Bay
Akuna bay is an iconic road ride on Sydney's North side.

Taking in a range of beautiful bushland vistas, steep ascents and friendly roads through Ku-Ring-Gai National Park there is something for everyone here.

If you're out just to cruise for the day then take in the picturesque surroundings, or race your mates up some of the technical climbs if you want a challenge.

If you're feeling extra energetic you can add the West Head loop onto your ride and reward yourself with a drink stop overlooking Sydney's iconic Palm Beach with a view all the way up to the Central Coast.

It truly is one of the best road rides in Sydney on safe roads with amazing surroundings and plenty of challenges.

Checkout the entire ride here.
2. Sydney City to Ettalong
Looking for a real adventure?

Sydney's Ettalong ride is an absolutely memorable day out on the saddle.

Ridden as a loop you can start anywhere from Sydney's CBD or North side.

Most riders head towards Palm Beach first where you can jump on a ferry across to Ettalong to give your legs a short break.

From Ettalong you loop through the Central Coast and back down to Sydney along the Old Pacific Highway, a real highlight of this ride due to the beautiful surroundings, rolling hills and light traffic.

A truly unique ride this is a must do on the Sydney road riding map.

Checkout the cycling route here.
3. 3 Gorges
Love to climb?

The 3 Gorges are for you. With over 1,800 meters of elevation gain this ride isn't for those looking for a casual Sunday pedal.

Even the fittest riders will be tested by the time they reach the third gorge.

This area is popular with cyclists due to the light traffic and you won't find it hard to find others to ride with if you want to be pushed by a group.

Starting anywhere from the CBD or north of the harbour you can ride up to Hornsby and into the Berowra Valley National Park to begin your first gorge.

Head across the stunning Berowra Waters before looping back down to Wahroonga.

This is a spectacular ride, mixing scenery with challenging terrain and it's not hard to see why this ride is so popular among cyclists in Sydney.

Checkout the cycling route map here.
Soomom rider EJ MacDonald flies through the Royal National Park / Photo: Charlie Coquillard
4. Royal National Park Loop
Representing the Southern side of Sydney we have the jewel in their cycling crown with Sydney's stunning Royal National Park, a huge and diverse region lying along the coast between Sydney and Wollongong.

Boasting the oldest nature reserve in Australia this park attracts everyone from hikers, mountain bikers, surfers, road riders and those looking for a day out in nature.

Following the Sir Bertram Stevens Drive, looping through tall gums through the park, riders will then attack McKell Avenue on a climb back up into the town of Waterfall.

From there its a leisurely rolling ride back to Sydney along the Princes Highway.

We recommend making this a day out, pack plenty of food and take one of the many detours in the park to find your ultimate rest zone with spectacular views up or down the coastline.

Checkout the entire route here.
You won't be short of places to stop for a caffeine break in Sydney's Eastern Suburbs / Photo: Charlie Coquillard
Soomom Ambassador EJ MacDonald at home on some of her favourite cycling routes around Wollongong, the South Coast & Kangaroo Valley / Photos: Charlie Coquillard
9. Wollongong to Nowra & Kangaroo Valley Loop
This ride is no easy feat, but if you're looking for a real challenge, and want to take in as much of the South Coast's highlights as you can, then this is the ride for you.

Starting in Wollongong you ride south past the beach towns of Kiama and Gerringong with rolling hills and beach views.

From there further South you'll turn around at the iconic Jervis Bay, the jewel in the crown of the South Coast with it's impossibly white sand and clear blue waters.

Make sure you're rested because now the real challenge starts.

Heading towards the small town of Kangaroo Valley you'll be challenged on your way in, and out, with long, winding climbs on narrow roads.

These climbs will test any cyclist but with views to die for you'll have plenty of motivation to keep pushing.Checkout EJ's cycling route map here.
10. Wollongong to Gerringong Loop
If you're looking for something a little easier out of Wollongong then the Gerringong Loop will give you over 100kms of the best coastal riding imaginable.

Spending almost your entire ride on coastal tracks you'll take in the popular holidays town of Kiama before turning around in Gerringong.

Gerringong is famous for its rolling green farms and iconic sandy surf beaches.

You'll want to hang around in Gerringong if you have time as it's a great place to enjoy a change of pace.

Checkout EJ's cycling route map here.
Jon Odams enjoys a day on the bike exploring some of his favourite rides south of Sydney / Photos: Charlie Coquillard
11. The Shire Hop
Looking for a scenic recovery loop around the Southern suburbs of Sydney?

This is one of the best local loops for Sydney road riders.

The Shire Hop takes in many of the highlights of the area along it's 40km circuit.

Including Oyster Bay, Lilli Pilli and the beaches of Cronulla, you won't be short of scenery, and plenty of places to stop for a coffee along the way.

Checkout Jon's cycling route here.
12. Mittagong to Mount Victoria
Another ride that is not for the feint hearted this 200km beast goes through some of the most daunting scenery in NSW.

Starting in the Southern Highlands and concluding 200km away in the Blue Mountains town of Mount Victoria this will test any rider.

With some off road sections make sure you've brought the right bike, but if you get through this you'll have really proved yourself.

Checkout Jon's cycling route here.
Conclusion
Sydney is best seen on a bike, whether riding around the city's famous harbour, or spending a day exploring the many national parks.

With rides that will challenge all cyclists you'll not be short of options.

Take the lead from Soomom' ambassadors EJ and Jon and don't forget to explore the cities that surround Sydney on Australia's East Coast as well.

Checkout our favourite Australian cycling routes for the best rides in cities around Australia here.

Follow us on Instagram or sign up to our newsletter below to get more updates on cycling in Australia.
More Stories

Social media can help you find people who share the same passion and connect with them. You can build these connections all over the world through our virtual playgrounds, but there are many cases where you can expand those horizons and really meet up in person.
Sydney Artist's Mulga loves to create funky and colorful animals, bringing joy to everyone passing by his art. Inspired by his coastal lifestyle, he brings a bright twist to some of the coolest specimens in the animal kingdom.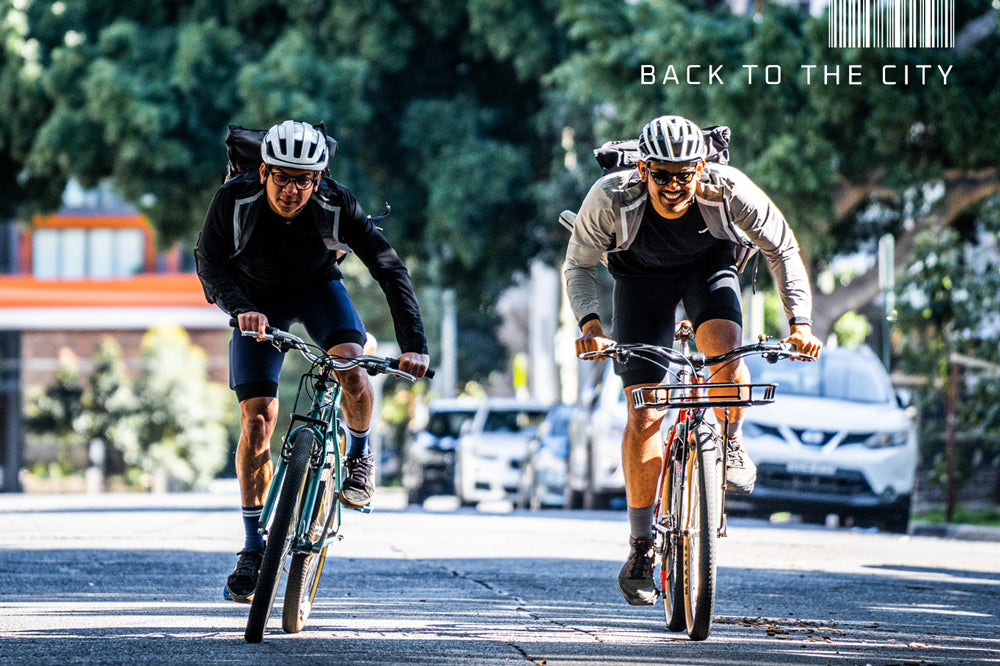 To celebrate the end of lockdown as people slowly head back to the city in Australia, Soomom wants to highlight an under-appreciated segment of the cycling fraternity: The Courier.