7 Stunning Cycling Road Rides in and around Canberra

Words: Scott McAllister / Pictures: Charlie Coquillard
Featuring Soomom cycling ambassador: Adam Nelson

Introduction.
Ever wanted to go cycling in Canberra?

Australia's capital city Canberra is inconveniently located halfway between Sydney and Melbourne, but it is always worth the drive to spend time exploring the area.

A city seemingly built for cyclists with plenty of wide, open, tree lines roads with little traffic, and set across a sprawling mostly flat terrain the local cyclists have unlimited options to explore.

For the mountain goats there's plenty of peaks surrounding the city to test your legs, while the burgeoning cafe and bar culture, and a large professional presence of workers, means you won't have to go far for a good coffee or some mates to ride with.

When cycling in Canberra all roads lead to Mount Stromlo, the premier cycling destination in the area, so it's become an increasingly important cycling location for Australian's.

Here we look at some of the best and most iconic Cycling routes in Canberra and it's surrounds.

Soomom Ambassador and local Canberra cyclist Adam Nelson shares some of his favourite rides too.
1. Lake Burley Griffin to Mount Ainslie Loop
The best introduction to Canberra you're going to need.

At 50km this ride takes in many of the highlights and landmarks of Australia's capital city on an easy, mostly flat ride.

Take in the centrepiece of Canberra as you cycle around Lake Burley Griffin and you'll pass major national landmarks like the National Gallery of Australia, High Court, Australian National University and Yarralumla, the Governor General's Canberra residence.

If you want to add some hills take a short a detour to Mount Ainslie for a spectacular look back over the lake and the ground you've just covered.

Checkout the cycling route here.
2. Canberra City to Mount Stromlo return
A cycling visit to Canberra is not complete without taking in Mount Stromlo and the feast of road, gravel and mountain biking terrain it has to offer.

Mount Stromlo was home to the 2009 Mountain Bike World Championships and it boasts exceptional terrain for off-road riders, and is a nice place for road riders to explore and conquer themselves.

Just 5km from the Canberra CBD you can add a detour onto your cycle around the lake as it's only a short ride from town.

Checkout the cycling route map here.
Soomom ambassador Adam Nelson climbing through the Canberra Arboretum / Pictures: Charlie Coquillard
3. 9 Peaks of Canberra
Up for a real challenge?

This is the ultimate Canberra cycling route for the mountain goats.

If you're looking to get the polka dot jersey then get ready for the 9 Peaks of Canberra.

Starting at the iconic Mount Stromlo you'll head South to take in the major climbs below Canberra.

You'll hit Oakey Hill, Red Hill and Mount Mugga Mugga before heading into Mount Pleasant and Mount Ainslie that both overlook Canberra's CBD and architectural highlights.

Next you'll be heading North out of Canberra for Mount Majura and Black Mountain before finishing with the Canberra Arboretum, a must see botanic reserve near Canberra that is a fantastic place to ride.

Complete this loop and you'll have conquered one of Canberra's best rides and seen what makes this area such a favourite for cyclists.

Checkout the cycling route map here.
Soomom Ambassador Adam Nelson at home on some of her favourite cycling routes around Canberra / Photos: Charlie Coquillard
4. Big Canberra Bike Ride: City to Stromlo & Uriarra
For something a bit more challenging this loop will take you past Mount Stromlo into the some of the peaks and gorges to the west of Canberra.

Taking in Mount MacDonald and the with several river crossings including the Murrumbidgee River you'll take in plenty of the local landscape while testing your legs along the 80km route.

Checkout Adam's cycling route map here.
5. Canberra to Yass return
Something for those longer days on the saddle you can head North out of Canberra along the Barton Highway to one of the major regional towns in the area Yass.

Located on the Hume Highway Yass is a peaceful and popular farming town that is well worth a day trip.

There's a few climbs and gully's to test you on your way back to Canberra along the Mountain Creek Road before heading back through the Western edges of the city.

At 150km you'll want to pack for a longer day on the bike, but this ride is accessible to most riders with the energy.

Checkout Adam's cycling route map here.
6. Mount Stromlo to Corin Dam return
Starting near Mount Stromlo and heading south this ride takes you to another local landmark, the Corin Dam.

Taking in several impressive climbs with over 700m in vertical gains along this 110km route you'll be tested physically.

Connecting back with the Tidbinbilla Road that connects with Canberra's southern suburbs you'll wind your way back to Mount Stromlo.

With plenty of rivers, bush and kangaroos to see along the way you'll get a real feel for the area.

Checkout Adam's cycling route here.
7. Mount Stromlo to Rendezvous Creek return
Starting at a similar point and heading South West from Canberra once again, you'll be heading deep into the Namadgi National Park on this nearly 140km ride.

Not for inexperienced riders you'll want to make sure you have everything you need for a long and challenging day on the bike.

With 600m of elevation gain along the route this will test your legs and endurance as you hit a couple of the local peaks.

You'll be rewarded with some breathtaking scenery and natural vistas along a flat and mostly rolling ride back into Canberra.

Checkout Adam's cycling route here.
Conclusion
Canberra is a region of extremes in weather, from scorching Summer's to frozen Winter's.

The variety in weather is only matched by the variety in cycling opportunities for the adventurous.

Follow the lead of Soomom rider Adam and get out to explore the nation's Capital and its surroundings, you won't be disappointed.

Checkout our favourite Australian cycling routes for the best rides in cities around Australia here.

Check us out on Instagram or sign up to our newsletter below to get more updates on cycling in Australia.
More Stories

Social media can help you find people who share the same passion and connect with them. You can build these connections all over the world through our virtual playgrounds, but there are many cases where you can expand those horizons and really meet up in person.
Sydney Artist's Mulga loves to create funky and colorful animals, bringing joy to everyone passing by his art. Inspired by his coastal lifestyle, he brings a bright twist to some of the coolest specimens in the animal kingdom.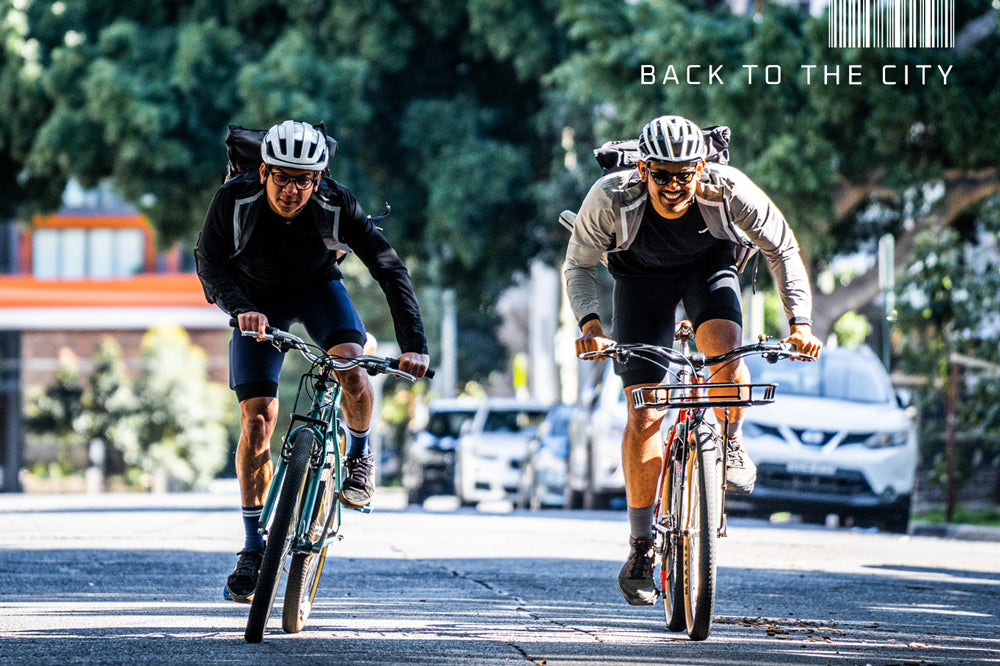 To celebrate the end of lockdown as people slowly head back to the city in Australia, Soomom wants to highlight an under-appreciated segment of the cycling fraternity: The Courier.